The plan was to repair the back deck and add a second level deck, with French doors leading out the 2nd floor game room.  Our contractor said his crew could get it done in 6 days.  Of course, as soon as he said that, it started raining.  They've been coming out whenever the weather acts like it will let them get a full day's work in.
Lowered the first deck a foot
Added the kitchen window
Erected posts for the second deck
Installed French doors on 2nd floor
Submitted plans to the POA (Property Owners Association) for the final project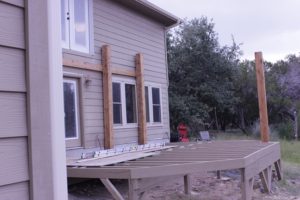 For whatever reason, the POA included replacement of the original deck boards with composite in the total project, so they couldn't replace (repair) the boards that they pulled off in order to lower the first deck.  Ray told me today that he was able to sweet talk the clerk into allowing us to go ahead with the first deck while we're waiting for the final project permit.  So, weather permitting, we might get our back deck back tomorrow.