There are certain milestones on a project that give you faith that it may actually end. One of those is when the counter-tops are cut and installed. It had been so long since I saw the surfaces I chose for the Bobcat Lair, that I really didn't remember them. So, walking into the house earlier this week made me so excited that I had to rush from room to room to see what was in there.
First, though, we had to stop and gasp at the granite on the living area shelves. It's also the master bath and powder room granite. Wow. I'd forgotten how cool it is. The colors absolutely tie in with the gray, cream and black throughout the first floor, too. You can't see how shiny it is in the picture, but it really has dimensions! I made a great choice in 2015.
The kitchen, I have to admit, was a concern of mine, because I'd originally intended for the cabinets to be cream and charcoal gray, but we got such a good price on the gray cabinets, that I agreed to change the plan. I just hoped that the counters I'd already paid for would look good with the cabinets.
Whew, the Caesarstone that's the main color contrasts just fine. And it has tiny mirrors, or something that acts like mirrors, in it. Sparkle! The island is black with a bit of gold sparkle (the same thing we used in the silver bathroom we renovated in 2015). It's a much-needed contrast with all the light colors.
It was nice to see the sink installed (see gallery). I remember having a huge "discussion" with Lee about whether to get the really deep, thick sink or a less sturdy one. It appears I got my choice, and it looks good. Thanks, Lee. I'm sure it will add to resale value, right?
Once we got over all the thrills, we did check out the master bathroom, where the beautiful granite is a great match for the shower tiles (gallery!). Relief all around. My design decisions of today didn't clash with my decisions years ago.
Other than that, the tile was finally finished in the new bathroom (in gallery!). It looks sort of dark, so we're glad we painted the walls light colors. The accessories will be light yellow and gray, so it should look much perkier then.
We discovered in the garage that the barn door that will lead into the office had been painted white. I feel so modern painting stuff white.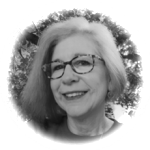 Sue Ann Kendall is a partner with Hermit Haus Redevelopment. As a professional writer and long-time blogger, she enjoys managing the company's social media presence and has lots of opinions on colors and styling for our renovated houses. She's very grateful to all her friends and colleagues who share our blogs and posts, and likes to share what others do, so keep in touch! Sue Ann and her husband, Lee, have renovated many houses, and they built their ranch home from the ground up. That was fun.