On Tuesday (28 March), Carol and I drove to San Antonio to do the final walk-through and sign the closing papers on our new acquisition in San Antonio. Our initial exist strategy for this house is to hold it as a rental for a year or two.
Once we see how the neighborhood is changing, we may decide to sell the house, fully renovate it for a higher-end flip, or continue to hold it. As I mentioned the other day, there are tax advantages that can make it much more profitable to hold a property for a year or two before doing a full renovation and resale.
Now you may wonder why we bought a house such a long way away from our usual area. There are a couple of reasons.
First, we were able to help the seller and still make a nickel. If you follow us, you know that we like to help people. In this case, the owner had moved out of state a few years back and had rented it to a friend to keep the mortgage up. This year, the friend had the opportunity to move into a larger house—I don't know if the friend bought the new house or not. Rather than handle the rental long-range, the owner decided to sell us the house. We paid a fair price, and the owner doesn't have to worry about getting the house ready for a retail buyer or even doing the minor repairs needed to bring in a new tenant.
Second, we already have a team in place in San Antonio to handle the repairs and rental. I don't recommend anyone except an experienced investor buy a house to renovate, or even to rent, more than 100 miles away unless they already have a trusted team in place.
Here's why: I spent slightly more than five hours in a car to get to this house and return to my home office. Would you want to spend even two hours driving to and from a house every time you needed to check on it? I wouldn't. I would prefer to rely on a solid team. That's another reason why the adage holds, "Your net worth equals your network."
Do you know of anyone in a situation similar to this, in or around central Texas? We would be honored to help. Phone 512-807-8777.
---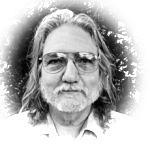 Ernest Lee Bruns, Jr. is a managing partner with Hermit Haus Redevelopment. Lee manages our relationships with banks and private money lenders, and also takes care of the financial aspects of the company. Lee grew up in a household that flipped houses before "flipping" was a concept, and spent much of his life training adults on hardware and software concepts. He enjoys educating others about the real estate investment business, through blogging and in person. He's been a member of Toastmasters and is a proud member of the Cameron, Texas chapter of Rotary International. When not attending gatherings of real estate investors in Austin and the surrounding area, Lee spends most of his time at his ranch and office in Cameron.
Hermann says please like and share!