There is no update on the Bobcat Lair this week. We realize you're very disappointed. But, once again you can blame the bureaucracy in Austin for a project delay! We had to turn the power off, to install new electric meters and finish the electrical upgrades to bring the house to code. Then we had to wait to have it inspected. The good news is that it passed inspection. But, the electric utility folks took their time turning the power back on, so we lost a week of work. Oh well, what's another week, right? Oh, wait, all our things are racking up storage fees while we wait for the house to be finished. Grr.
To make up for a lack of progress, here are some of the cardinal flowers that are blooming near the house. The landscaping in the neighborhood leaves a lot to be desired, to say the least. It looks like it's mostly the original plantings, faithfully maintained by a landscaping company, but not improved on (note that the house is not a condominium, but the neighborhood home owners pay a fee to maintain the grounds and pool). In the photo of the Bobcat house at right, you can see one sad shrub. It has a couple of friends, all that remains of what once was a photinia hedge around the edge that faces the main street. The hedge was not trimmed properly, and when plants died, they just pulled them up. What to do, when the homeowner association maintains the yard, not you?
Well, we found out what to do! Anita and I had showed up to look at the house for our weekly visit, and were waiting for Lee, so we walked around the block. Naturally, we ran into numerous neighbors. The first lady was the one with the cool iron railings around her deck that we aren't allowed to have. We were talking about permits and delays, and she shared how hard it was to get permission to maintain the beautiful garden behind her house. I mentioned how we managed to get the illegal shrub removed, and she said the whole neighborhood is upset with the landscaping and wants to do something about it…something about a meeting. About that time, Lee arrived, and we headed back to Bobcat.
Out came our next-door neighbor, a retired real estate agent (and her cute dog). She was extra thrilled to see us. Why? Because we have a vote in the homeowner's association, and there's a meeting next week. Would we please go? And would we please attend a potluck with everyone on the cul-de-sac, the night before? To discuss the management of the HOA? Hmm, I think I see a coup coming. So, Anita and I promised to attend both meetings and learn all we can about the goings-on in the neighborhood. I guess we belong, now. We will keep you posted. The potluck is tomorrow!
---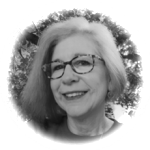 Sue Ann Kendall is a partner and Director of Social Media with Hermit Haus Redevelopment. As a professional writer and long-time blogger, she enjoys managing the company's social media presence and has lots of opinions on colors and styling for our renovated houses. She's very grateful to all her friends and colleagues who share our blogs and posts, and likes to share what others do, so keep in touch! Sue Ann and her husband, Lee, have renovated many houses, and they built their ranch home from the ground up. That was fun. 
Hermann says please like and share!