Colors keep coming into my consciousness. You may remember I wrote an article on Bobcat Lair color recently. That put me on alert.
I was reading an article in one of my numerous home decorating magazines this weekend, and I came across an article on the trendy colors of the moment. I think it was the print version of this article in House Beautiful. I always look to see if any of the colors I'm using in current projects are popular at the moment. I was rather surprised to see versions of all the colors I'm using in the Bobcat house were in the article, because I literally just grabbed the colors off the giant paint color wand lying around the house.
Colors and Me
Now, most of the house is painted a creamy white, whose name is lost in the mists of my memories of 2014. I'd like to THINK it is a pale shade of mushroom, because I love mushroom. There are also many walls of a medium-light gray that we mixed ourselves to coordinate with the kitchen cabinets. The accent walls are, to say the least, pretty perky for the most part. As a reminder, these are most of the accent colors we are using, minus the grays that we mixed ourselves (see color cards!):
I don't know why people complain about Greenery. In reasonable amounts, it's cheerful! And I hope we can find accessories in that color for the kitchen!
So, I was wondering how I managed to select so many colors that are on trend right now. My best guess is that these are the colors we are seeing everywhere in magazines, clothing, advertisements, and television shows. They probably just seep into my consciousness as I absorb the images around me, so of course I pick those colors. I guess I should be glad the colors of the year don't include bubble-gum pink and royal blue. I'd never sleep at night.
Good Color News
One of the best things I drew from all the color articles I've been looking at lately is that is is OK to put colors in your house. While I did see that monochromatic color schemes are a "thing" (that means walls, ceilings, trim, cabinetry, you name it, all the same white-ish color), many articles are talking about painting walls or trim strong colors, even using glossy paint to bring them out. Of course, this works best in your own, personal home. I understand why my colleagues are sticking like glue to gray surfaces with white trim and cabinets in homes they renovate or homes they want to sell. That lets people imagine THEIR favorite accent colors, which they can add after closing!
Even we do this; we significantly reduced the number of colors in the walls of our Lakeland house, though we left subtle greens and golds to bring out the Mediterranean feel, and our other houses have all been tan or gray on the inside.
Let me know what you are doing when it comes to color in your own home! And if you ever need help deciding, Carol and I both LOVE to talk about colors. 512-807-8777.
---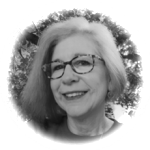 Sue Ann Kendall is a partner and Director of Social Media with Hermit Haus Redevelopment. As a professional writer and long-time blogger, she enjoys managing the company's social media presence and has lots of opinions on colors and styling for our renovated houses. She's very grateful to all her friends and colleagues who share our blogs and posts, and likes to share what others do, so keep in touch! Sue Ann and her husband, Lee, have renovated many houses, and they built their ranch home from the ground up. That was fun. 
Hermann says please like and share!