Some of us still use email, right? I spend a lot of time creating filters to make things I don't want to see go away (but not disappear–sometimes I want that Chico's or Bed Bath & Beyond coupon!). Wouldn't it be nice to get a pleasant and interesting email from your favorite real estate redevelopment specialists and rehabbing fanatics, almost every day? Sure it would!
A while back I set up a little plugin on this blog that will allow people to get an email every time we post a new entry. If you are reading this from such an email, congratulations! You are one of 49 smart folks (as of the moment I'm typing this, shown in Image 1) who have signed up! It's a great way to not miss any of Lee's and Russell's educational postings or my updates on our renovation progress.
Of course, since the plugin is a simple WordPress freebie, it's not overly sophisticated. Email software thinks the confirmation email and subsequent posts are spam, unless you tell your software, "No, these people are my legitimate friends and I'd truly like to receive these messages!" So please, if you fill in the little sign-in form, go into your junk or spam email box and look for something from us. Confirm your subscription, then, the next morning or two, check your junk mail for something that looks like this: [Hermit Haus Redevelopment] (see Image 2). Do whatever it takes to tell your software this is a sender you approve of. In Microsoft Outlook, I right-click on the sender and select "Junk E-mail Options" and add hermithaus.com to the list of safe senders (Image 3). You're set. Since we don't spam you, all should be well, and you'll get notices of the blog posts via email!
I hope this helps you see our stuff as often as you would like to. We sure appreciate all of you who take the time to read our posts here and on Facebook, especially those of you who send friends our way. We get most of our business by word of mouth and social media contacts, so your support is vital to our success!
And hey, don't forget to comment! We notice (Cindy L.!).
PS: The Chicago Manual of Style says I don't have to hyphenate "email" anymore. Whew, that saves so many keystrokes!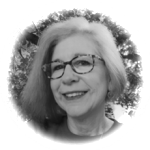 ---
Sue Ann Kendall is a partner and Director of Social Media with Hermit Haus Redevelopment. As a professional writer and long-time blogger, she enjoys managing the company's social media presence and has lots of opinions on colors and styling for our renovated houses. She's very grateful to all her friends and colleagues who share our blogs and posts, and likes to share what others do, so keep in touch! Sue Ann and her husband, Lee, have renovated many houses, and they built their ranch home from the ground up. That was fun. 
Hermann says please like and share!