This afternoon I was inducted to Rotary International. I became the 30th currently active member of the Cameron Texas Rotary Club.
I take this new membership very seriously. Being accepted into Rotary means that my peers think I am an honorable business leader in my community. Part of the code of conduct and requires that all of my actions, speech, and even thoughts pass the fourfold test:
Is it the truth?
Is it fair to all concerned?
Will it build goodwill and better friendships?
Will it be beneficial to all concerned?
Hard core, huh?
The core principle of Rotary is that business leaders can do good in a community when they put their heads together and follow their ethical commitments. And who can argue with the programs of Rotary International?
Promoting Peace
Fighting Disease
Providing Clean Water
Supporting Education
Saving Mothers and Children
Growing Local Economies
I wanted to become a Rotarian when I was first invited to attend a meeting earlier this year. The fourfold test, doing good in the community, and a commitment to conducting business ethically all ring true with me. I look forward to working with my fellow Rotarians to raise money for scholarships and community improvement in Cameron and the world.
The Cameron Rotary Club is also a 100% Paul Harris Society club. The society recognizes Rotarians "who contribute, or who have contributions made in their name, of $1,000 to The Rotary Foundation of Rotary International." These contributions have helped support the eradication of polio and continue Rotary's charitable work. I look forward to supporting the foundation, too.
I am not telling you all of this as some form of self-congratulation. Rather, I am using  psychology on myself—the consistency principle. By putting these goals in writing—especially in such a public forum—I am programming myself to live up to this commitment.
Let me know how I do.
---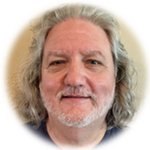 Lee Bruns is Director of Operations for Hermit Haus Redevelopment, LLC and sits on the board of several other investment companies. He grew up in the real estate business and continues to put off retirement because of his love for old houses and a desire to help people. His role models include Jimmy Carter and Richard Branson.
Hermann says please like and share!