Several of our projects came from wholesalers, and we almost picked up another one this week.  This wholesaler has proven to be reliable and, perhaps more importantly, believable. Wholesaling is a way many investors get into the business.  In theory, if you can find a good deal (and, in our philosophy, can help out a distressed owner), you can wholesale to other investors and make a quick turn-around.  That's the theory, anyway.  In practice, it's not as clean and dry as that.
What Is Wholesaling?
Wholesaling real estate is getting a property under contract and then assigning, or selling, the contract as quickly as possible. Basically, a wholesaler gets a property (normally a distressed property) under contract and then either assigns the contract or resells the property to another investor. These other investors either use cash, lines of credit, or hard money loans. This process provides quick closings on properties that sometimes need extensive repairs.
Buying a house from a wholesaler it is much different from buying a house off the MLS. Investors do not have much flexibility on terms, such as how long they have to close. We often has to put a non-refundable deposit down, and they get no inspection. Houses are sold AS-IS and no repairs will be made.
What Do Investors Need?
The buying investor needs a large enough discount from what they could buy on the MLS, or the wholesale deal is not worth their trouble. The wholesaler has to get an awesome deal that leaves room for both the wholesaler and the investor to make money.
In this case, it is a win-win-win scenario. The seller, the wholesaler, and the end-buyer all benefit.
A wholesaler is a middle man, and a good wholesaler becomes a very well-paid middleman that other investors love. If you have a good-enough deal under contract, there are active investors out there who would be glad to pay cash for it in a matter of days.
What Makes a Great Wholesaler?
Not all wholesalers are the same. Here are some of the characteristics investors look for in a good, reliable wholesaler (or if you want to be a wholesaler, some aspirational goals):
Communication
We meet wholesalers in lots of different places – at real estate meetups, seminars, even from Craigslist ads. When we meet them, they often have a property under contract and are actively looking for qualified investors. However, we sometimes lose touch with them once that property is sold.
Wholesalers, keep in touch with your investor network. Learn to build your investors list. Learn how to use technology to keep the lines of communication open. It reminds us that you're still in the game, and makes it much more likely that we'll respond to you on your next property.
Complete Packet
Wholesalers usually e-mail a wholesale package to all their investors. The package usually includes at least one good picture of the property and lists the price, repairs needed, terms, and estimated after repair value. The more questions you can answer up-front (we're asking because we need this information), the better your offers are perceived and the more likely you'll be to get responses. On the other hand, offers with minimal information generally go straight into the trash. Time is money, and if there isn't enough information for investors to make a quick informed decision, they will still make a quick decision—just not the one you want.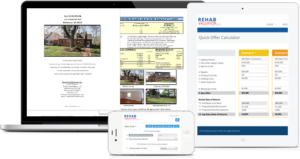 Accurate, Reliable Comps
The wholesale packet usually includes comparable properties for both the flip and the buy-and-hold scenarios. Those comps that are the basis of your suggested ARV (the value of the house at sale). Don't "oversell" your ARV by throwing out wild numbers of unequal comps. You might catch a new investor from time to time with that, but experienced investors will learn either to second guess (and mentally discount) your numbers, or they'll dismiss you and your offers out-right.
For example, we recently saw ARV of one property listed at $318,000. When we pulled our own comps, we found that the "comps" used to generate that number were in a different, although nearby, neighborhood. We also found that the highest priced comp in the actual neighborhood sold for only a few thousand more than the "wholesale" price being asked. What do you think we'll do with the next package we get from that wholesaler?
Accurate, Credible Repair Estimates
Hand in hand with accurate comps are the figures used to estimate the repairs. Itemized repair lists are best. Get bids for large repairs like the roof, A/C, or foundation. We know these houses need a lot of work – that's why you're wholesaling them. Seriously, a lot of times we want them to be stinkers; it scares away retail buyers and the "lipstick" rehabbers. Err on the side of caution and don't try to underestimate the repairs. If you can get a general contractor (GC) to provide a repair bid to substantiate your repair estimate.
If you don't know how to estimate repairs, don't. Honesty is always the best policy when it comes to creating long-term relationships with your investor network. Wholesalers have such a bad reputation for repair estimates that a "Wholesalers be like…" meme is common on investor network pages.
Hermann says please like and share!