I've been reading the most recent book by Brené Brown called Braving the Wilderness, which I guess a lot of people are reading, since it's #1 on the NY Times Best-Seller Chart. I like her books, because she comes across as both smart and approachably human. She tells great stories about how she screws up then learns something from it, which really confirms my belief that all the best lessons in life are learned from making mistakes.
Brown spends a whole chapter in the little book about "Speaking Truth to BS" (except she spells it out). While I'm sure that all of us run into people who are full of BS, whatever we do for a living, I also think the real estate investment and rehabilitation biz has way more than its share of BS experts. As someone who tries to interact with others in a straightforward and factual manner, I've had truly awful times trying to figure out how to constructively work with people who prefer to communicate via exchanges of BS rather than facts. I want to get into arguments. Brown wants me to bring out civility. And she's right. If you want to work with all kinds of people, civility is mighty helpful.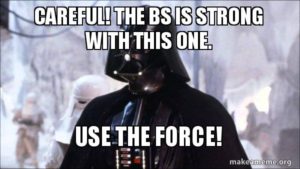 For example, I have a long-time colleague who frustrated me to no end by (apparently) sincerely telling me things that ended up just not to be true: this thing is scheduled! I'll do this other thing on Wednesday! Everyone does this task the way I do! When the stuff didn't end up being done, or wasn't done right, I'd be really frustrated. I wondered if the person was intentionally lying to me, and considered making accusations, but came to the conclusion that no, I always got told what the person strongly believed at the time, whether it was true or not.
That's because the BS artist is not one bit concerned about truth or facts, just beliefs. And what these folks believe is way more important to them than any pesky facts. They may be people pleasers who don't want to tell you things you don't want to hear, or people whose self esteem suffers if they admit to errors. There are many understandable reasons for people to end up this way. As Brown points out, assuming that they are acting the way they do because they are just nasty people won't get you very far.
How Do You Handle That?
Believe me, the answer to THAT question is one reason I picked up the self-help book in the first place! Brown advocates not giving up your own attachment to veracity, but not derailing conversations by just saying, "That's BS!" Instead you can use genuine empathy and curiosity to ask questions, such as, "How did you arrive at that schedule?" "Can you show me some documentation on how others do this job the way you just did?" "Can I have the number of the person who is going to do that job on Wednesday so I can confirm?" You might learn something.
The thing is, once you figure someone's preferred mode of communication is BS, you have to hold to your truth, and keep asking questions until you get to something you can verify, but don't put the other person and their beliefs down. Not easy, nope, but very useful. So much of the time people who disagree rush past any possible ways to find commonalities so they can actually talk to each other, and instead jump right into accusations and name calling. Do you know people like that? Do you like to work with them?
Once you feel judged and put down, it's hard to think well of whoever you're talking to. I still remember someone who started out a conversation by judging me from a t-shirt, calling me  "femi-nazi libtard" but wanted me to listen respectfully to their views, otherwise I was proving how awful I was. I left. This kind of stuff happens so often in our business. We assume the property owner wants to cheat us, or the contractor is pocketing our money…whatever. If we only would ask questions first, then listen to the answers, we'd get along a lot better.
The same goes with someone who would rather shoot a stream of BS at you than tell you what you need to know. Once you ask questions assuming they have good intentions, so you and the BS artist can get to the same page, you can get your work done. In our business, you can get a loan, build a room, buy a property, complete a renovation on time and on budget, etc. So yeah, speak truth to BS.
As always, I'd love to read your stories about how you worked through BS and ended up getting things done well. That comment box gets pretty lonely sometimes!
Hermann says please like and share!