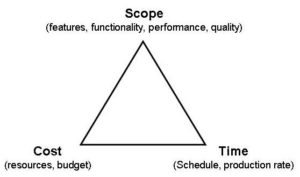 In project management, there is a concept known as "the Project Constraint Model." It is comprised of three key constraints: "Cost," "Time," and "Scope." The diagram of them in a triangle shows their interdependence. The concept is that any adjustment in one area is going to have an impact on at least one of the others.
The time constraint refers to the amount of time available to complete a project.
The cost constraint refers to the budgeted amount available for the project.
The scope constraint refers to what must be done to produce the project's end result.
These three are essentially competing constraints: increased scope typically means increased time and increased cost, a tight time constraint could mean increased costs and reduced scope, and a tight budget could mean increased time and reduced scope.
If you need to finish a job sooner, you can throw more people at it, which, in turn, will increase costs. If you allow scope creep, then the time either has to be extended or the costs will have to extended. If your budget is fixed, then you can't allow for additional tasks. And, in the context of renovation projects, you must account for the holding costs associated with the time under renovation.
So the issue is: which do you choose for each particular project? Your answers may vary!
Hermann says please like and share!