I'm writing this because 1) Victor Hugo sort of looks like Lee, and 2) it feels somewhat fitting in the context of Lee's last post about the proposed tax plan.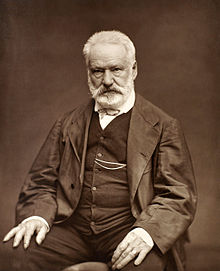 Victor Hugo's first mature work of fiction was first published in February 1829 and reflected the acute social conscience that would infuse his later work, and would have a profound influence on later writers such as Albert Camus, Charles Dickens, and Fyodor Dostoyevsky. Claude Gueux, a documentary short story about a real-life murderer who had been executed in France. A lengthy epilogue follows the story, in which Hugo criticizes the lack of proportionality between education and criminal punishment. The last part of his speech, directly meant for French legislators, was considered by Hugo himself to be a precursor to his great work on social injustice, Les Misérables.
"We have given the history of Claude Gueux's life, more to solve a difficult problem than for aught else. In his life there are two questions to be considered – What was his training, and what was the penalty? This must interest society generally; for this man was well gifted, his instincts were good. Then what was wanting? On this revolves the grand problem which would place society on a firm basis.
What nature has begun in the individual, let society carry out. Look at Claude Gueux. An intelligent and most noble-hearted man, placed in the midst of evil surroundings, he turned thief. Society placed him in a prison where the evil was yet greater, and he ended up becoming a murderer. …. The facts are now before us, and if the government gives no thought to the matter, what are the rulers about?
The Deputies are yearly much occupied. It is important to shift sinecures and to unravel the budget; … Deputies or ministers! Rulers and legislators! …You assert that it is the habits of modern civilization that have engendered adultery, incest, parricide, infanticide, and poisoning,… Very important indeed all this is, but we consider there are subjects of far greater consequence. In the midst of such useless arguments, what answer would the Deputies give if one rose and gravely addressed them in the following words:—-
"Silence, all those who have been speaking! Silence, I say! … Now take your time to consider it, you who argue over the buttons of the National Guards, whether they should be white or yellow, and if security is preferable to certainty! Gentlemen of the Right, gentlemen of the Left, the great mass of the people suffer! … The people are famished, the people are frozen. Such misery leads them to crime: the galleys take the sons, houses of ill-fame the daughters. You have too many convicts, too many unfortunates.
"What is the meaning of this social gangrene? … You are at fault; now study the matter more deeply.
"When you pass laws, what are they but expedients and palliatives? Half your codes result from routine….
"Take down that worn ladder that leads to crime and to suffering. Revise your laws; revise your codes; rebuild your prisons; replace your judges. Make laws suited to the present time.
"You are bent on economy; do not be so lavish in taking off the heads of so many during the year. Suppress the executioner; you could defray the expenses of six hundred schoolmasters with the wages you give your eighty executioners. Think of the multitude; then there would be schools for the children, workshops for the men.
"Do you know that in France there are fewer people who know how to read than in any other country in Europe? Fancy, Switzerland can read, Belgium can read, Denmark can read, Greece can read, Ireland can read — and France cannot read! It is a crying evil.
"…. Then give the people a fair education, and what there is of good in these ill-conditioned minds, let that be developed. People must be judged by their opportunities. Rome and Greece were educated; then brighten the people's intellect…. Ignorance is preferable to a little ill-directed knowledge…Whatever you may do for the people, the majority will always remain poor and unhappy. Theirs the work, the heavy burden to carry, to endure: all the miseries for the poor, all the pleasures for the rich. As such is life, ought not the State to lean to the weaker and helpless side?
"Then give to those people who work, and who suffer here, the hope of a different world to come, and they will go on patiently; for patience but follows in the footsteps of hope. Encourage virtue, and from that will spring so much that now lies fallow.
…"Then give the people all encouragement; improve the masses, enlighten them, guard their morals, make them useful, and to such heads as those you will not require to use cold steel."
Hermann says please like and share!