Regular readers will know that we have been working on the Saint John house in San Antonio for a long time. It has had a pretty rough history, and things keep happening that make our job hard (contractor issues, a person living in it and messing up the floor, people stealing copper, drug deals in the yard, etc.). I just searched for St. John in our blog archives, and got depressed just reading about it.
Now, we put it back on the market a couple of weeks ago, and I did a big Facebook marketing campaign for the house that got lots of hits and reactions. It brought us a good real estate contact in the area, but didn't get us many showings.
What DID happen was that people who live around the area where the house is located began to complain about what we had done to the house and the selling price. You see, it's in a neighborhood that was historically occupied by working class black people, but the homes in the area are rapidly being bought by redevelopers and being fixed up with an intended purchaser that is in a different demographic. It's a lot like the East Austin area, only a few years back. There are a lot of people who are not happy that the trendy folks have bought so much of that area, as well.
Well, Yeah
And you know what, here at Hermit Haus, we don't blame them. Our goal in renovating a house is to make it safe, clean, and affordable by residents of the neighborhood. Affordable housing should be available to everyone, no matter what their income or situation.
(I also think I did a poor job with the ad content, because I used the text Carol had written for the listing, which was aimed straight at the gentrification audience, and not very respectful of the current neighbors, since it bragged that the house was less than $200K, but was still way outside the affordable range for most current neighbors. In retrospect, I think I could have toned the marketing down, but still pointed out the features of the home. The listing copy was fine for its purpose, but not for the Facebook ad.)
So, What's with Saint John?
This house doesn't fit our model in many ways. First, it's in San Antonio, where we originally hadn't planned to work, until we met Frank, who lives there. Second, we didn't do the original purchase or rehab; we just financed part of it for our friend, Larry. It wasn't really his model, either, but when he saw the circumstances of the resident of the home, he felt he had to buy it. We've talked about it before, but in a nutshell, an elderly woman was being held hostage in her own home by some relatives who were using her Social Security money for their own needs, while leaving her on a couch surrounded by filth.
Once the house was sold, the woman went to a nursing home where she could be clean and cared for, and the relatives got the immediate cash they wanted. Basically, Larry convinced us to help buy the house to save the woman, and we totally agreed with his decision.
Then, Larry and his team renovated the house, which was in bad shape. It was leveled, rotting wood removed, and the interior spruced up (but nothing overly fancy). There were some issues with the contractors on this house (sound familiar)? That led to Larry having a hard time selling it. It didn't help that drug deals were going on in the back yard, which none of us could supervise, and a sudden downturn in the market.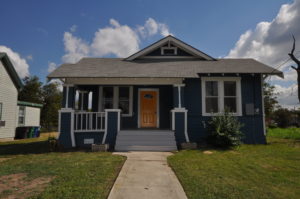 Time passed. Eventually we bought Larry out so we could finish the renovation, which we did, this time with Frank to supervise, and Russell to do a lot of the work himself. Most important, we built a fence! The neighborhood has had home values go up since we first marketed it (thanks to all those people fixing up other houses in the neighborhood, and new construction next door).
So yeah, we priced the house to meet the current market. That probably has priced it out of the reach of many people, who label the neighborhood "the hood." That's the problem with being a business, and not a charity. You do have to try to make money.
So, Do We Make Money?
We empathize with people who don't like gentrification. It is a really difficult issue that many people in our field wrestle with today. Some investors have different opinions than ours, and we aren't here to argue, just to explain that, when possible, we don't want to "over" improve a house.
We have renovated more than one house to fit in with the neighborhood. Lee and I fixed up one in Round Rock that was in awful shape. We helped the previous renters find a place they could afford to move to, then freshened the house up, made the kitchen safe again, and were able to rent it for a price that matched others in the area. We eventually sold it to a renter.
A house we bought in Pflugerville worked the same. We fixed some structural issues, made the heating and air conditioning work, and have been renting it since. It provides safe housing that's not fancy, just comfortable.
So, it can be profitable to renovate to neighborhood standards.
And Now?
We do hope someone who's interested in preserving the character of the neighborhood buys it. And we will continue to look for properties we can renovate to neighborhood standards.
Hermann says please like and share!