The interior on Oakridge, our project in Round Rock, has been a lot of fun to work with. Carol and Ray figured out a way to make the "Austin Stone" (limestone) fireplace look like new again. She figured previous owners had tried to clean off smoke damage from sooty wood by using water. That just made mud.
By using a good, stiff brush and a little elbow grease, however, the stone looks like one of those successful tooth whitening pictures: at least three shades whiter!
If you want to see the cleaning process in action, click the link below to see it on Facebook (I've failed to find a way to put someone else's video on YouTube, which I guess is good security):
CLICK TO GO TO FACEBOOK AND SEE VIDEO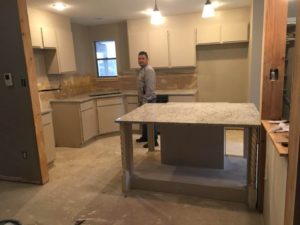 Lots of progress is also being made in the beautifully open kitchen. In this photo you can see the lovely legs added to the island area, the clean cabinets (white on top and gray below), and the nice granite that's topping them. Also a very happy contractor. We like those.
Carol's following the rehabbing model the FortuneBuilders gave her, and rocking it!
The plan for the weekend is to do some landscaping. Carol already bought a bunch of nice, neutral things to stage the house with, and we're all looking forward to that!