What is a self-directed IRA?
An IRA (Individual Retirement Account) is used to save for retirement and to facilitate withdrawals after a certain age.  A self-directed IRA (SDIRA) is an account that gives you complete control over your investment choices. Designed for DIY investors, they allow the owner to invest in a much broader range of investment types than a traditional or Roth IRA.  Unlike other IRAs, you're not limited to stocks, bonds, or mutual funds.  Self-directed IRAs can invest in real estate, private market securities and more, although the IRS still forbids some types of investments including collectibles and life insurance.
Investments of an SDIRA are held in an account administered by a custodian or trustee.  The account itself is managed by the plan owner and can function as a very broad investment portfolio. Therefore, it requires greater initiative and due diligence on the part of the plan owner; the custodian doesn't vet the investments you undertake.   That's where the "self-directed" part comes in. It's your responsibility to conduct the due diligence on the securities and other assets you buy.
Once you find a custodian, you'll open an account and contribute money to it, just as you would with any other IRA.  One potential blunder to avoid is neglecting the "no self-dealing" rule, which prohibits you from borrowing money from your IRA, selling property to it, and other interactions. Your role must be entirely passive.  Think of your IRA as owning and operating the assets within it. In other words, your IRA, rather than you, must pay someone else to do the work.
Using a self-directed IRA to invest in real estate
Let's say you're interested in a rental property. If you were to purchase a property directly, any rental income received each month would go right back to you. When you invest in a rental home using an SDIRA, on the other hand, the rental income gets funneled back into the IRA.
To initiate an investment, complete a Direction of Investment (DOI) form and send it to the custodian. The DOI contains instructions and details about the investment, such as the amount to invest, where to send the funds, and if there is documentation that requires signing. The custodian processes your DOI form and sends funds to complete the investment purchase. After the purchase and closing is final, your IRA owns the asset.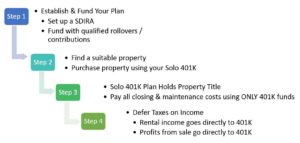 Some important rules to keep in mind:
There is a rule that prohibits entering into deals with specific relatives, including parents and children, and other people.
You cannot purchase property for personal use or for use by a disqualified person.
The investment must be titled in the name of your IRA, not in your personal name.
Expenses must be paid from your IRA.
All income must be paid into your IRA.
If you decide to sell your investment, you should complete that transaction within the SDIRA. That way, there are no tax consequences until you accept distributions from the SDIRA, due to the tax-deferred nature of all IRAs.
And don't ever spend the night in your IRA-owned rental property.
From Sue Ann:
Lee and I both have SDIRAs, and we find that with careful choices of properties, we make a much higher rate of return than with our traditional IRAs (Sue Ann has one at her software job).
Thoughts, anyone?