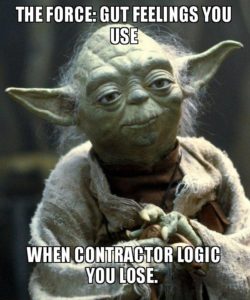 In parts 1 and 2 of this series, I wrote about how to find contractors and how to get them to view your project. For part 3, we will assume that you have received back all of the bids you requested from each contractor.
I'll be using hypothetical scenarios for this, to hopefully make this step a little easier. We will assume three bids for replacing 10 windows, and your budget is $15,000 (to be on the safe side). Let's also assume for the sake of the example that $11,000 is a very fair price for this job in your area.
Bid 1 comes from "So and So Contracting." They wrote the bid on a tiny notepad piece of paper, and it is really hard to see how they came up with a bid of $4500 for the 10 windows. The handwriting is not clear, and you cannot read if they wrote up a bid or a to-go order for a restaurant. They also have requested full payment before working begins.
Bid 2 comes from "This Guy's Construction," and it is typed up, clear, and easy to read. It has all the proposed labor and materials listed with an estimated cost, their bid comes in at $9,000, and they expect an 80% payment up front.
Bid 3 comes from "Another Construction Company," and this is a standard form from the company that has the details of the job handwritten into the blanks provided. Although it is handwritten, you can understand it, and the writing is clear. This bid includes everything that Bid 2 includes, but this bid comes to $10,500, and they expect a materials payment of 1/4 of the proposed bid up front.
At first glance one may assume that Bid 1 gets the job because of the low bid. That would most likely be a pretty big error for a few reasons:
The first is that you have no idea what is written down. You specified 10 windows, but are you sure that they are counting all 10?
The next reason is that if the going rate is $11,000 and they have underbid the others by half, you should assume that they do not understand what they are being asked to do and have made no effort to ensure that their material cost estimates are accurate. Also, chances are that if you can't read their formal bid, they couldn't read the notes they used to make it either.
Third reason, never pay 100% in advance for a job like this. That is asking to never see those people again, in most cases. Even if they have great intentions, things happen, and you will have just lost a chunk of money and time that you cannot recover. You get what you pay for, and I would feel confident in saying that this company lacks the experience, knowledge, and understanding of a job like this to complete it properly.
Bid 1 is not a viable option and should be rejected. Now that we've narrowed things down to between 2 and 3, let's discuss the viable ones.
Bid 2: An 80% payment upfront is still pretty risky. I have seen contractors walk away from jobs after receiving 80% of the money for the job. I would be very leery of this company expecting that much up front. It may not be a bad idea to ask them if the 80% is negotiable or not. For now, let's assume you did and they said it is not negotiable.
Bid #3: These folks only requested a quarter of the money upfront and classified it for materials. This one is really reasonable. That initial payment may not cover all of the materials, and they may end up having to buy some themselves and include on the invoice to you later, but this payment shows good faith to them that you are serious, and will pay them what they are owed when the project is complete. Bid 3 also comes in at the most expensive.
How do you make a decision? Keeping in mind that you get what you pay for, my advice would be that Bid 3 from "Another Construction Company" gets this job. They are $1500 more expensive, but to me this says they have a pretty good understanding of the job, materials, labor, and what it will take to get it done. They still come in $500 below the area average, but not so low that people working for them are not making a fair wage on the job. They are also most likely estimating with better materials, and possibly extra materials to give some cushion that could make the ending price lower than the bid.
I would not always choose the most expensive bid, but usually not the lowest either.
Of course, these blogs pretty much just give the basics on choosing a contractor. There is a lot to be said for gut feelings about people, and you should consider that, as well, when reviewing the bids. It is hard to transfer what feelings are like in black and white here, but you will know. If for some reason there are no real gut feelings with any of them, what I've written here should be a pretty helpful guide to finding a great contractor.
And for any contractors who are reading this, I hope that I have not made any of you upset with things I have written and bluntness of my words [that's just how Mandi is, says Sue Ann]. On the other hand, you now have a unique perspective into the minds of the people who are looking for you and advising others on how to find you.
I hope that everyone reading finds this helpful. Questions are always welcome, and I love to help!
Hermann says please like and share!