I have had the pleasure and pain associated from working with contractors. Some are great, some are a little more difficult. Recently, I have heard quite a few stories from some of the better (in my opinion) contractors that I have worked with about really bad experiences they have had. I want to go over what should really be common knowledge, but appears as not. Let's dispel some myths associated with some of these bad experiences right quick.
Contractors Can See the Future!
There may come an occasion where you receive a bid and the contractor discovers something else that should be addressed. That happens. Make it clear from the start that you need to be notified if it happens, and you will make a decision. If your contractor discovers something like black mold, and you tell them that you don't want it fixed, please understand that they might leave the project. Black mold is bad for many reasons. They could be held by moral standards as well as legal for turning a blind eye to it. They are not the bad guy for this, and you should have contingencies set up just in case. Please don't take it out on the contractor if they discover an underlying problem that no one knew about. They are not psychic and do not consult a crystal ball when figuring up your bid. Well, the ones I know don't do that. There may be some that do.
My Friend Is a Contractor. That Means Free, Right?
Wrong. As someone who has done many things from cake decorating to all manner of other artsy stuff, it really is frustrating and hurts my feelings a bit when my own friends don't want to pay me to do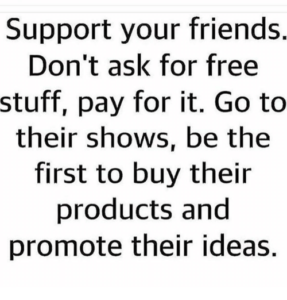 something. I have done cakes as favors and gifts on occasion. More often than not, though, it seemed as though I was expected to do it for free because we are friends. Some have even left me holding the bag for paying for all the materials I needed to do the job. Half the time it was a huge deal because it was last minute, or an emergency and they were just so desperate. As soon as I agreed to help them out, the [insert occasion here]zilla's popped out and wanted everything exactly a certain way which meant days of time to do it, and no thought that it was free for them. Most never even offered to pay for anything.
Experience is a form of currency, but not the form that will keep your bills paid and food in your mouth. You should never assume that your friend will do something for free. Materials are expensive, and their time is worth something. If they are doing something that you are not able to do for some reason, please at least offer. If they tell you not to worry about it, that is different.
If you have your contractor friend doing free work for you, pretty soon you will not have a contractor friend. This also applies to photographers, cake decorators, musicians, and other artists. Home repairs are an art in and of themselves; if you wouldn't ask a museum to give you a priceless painting, don't ask your friends to work for free. I am also much clearer now that I do not work for free, for anyone and materials have to be bought/paid for upfront with a deposit. Friend or not, that is the new policy.
Contractors Are Shady and Make Up Stuff to Repair!
I have heard this from people. Give everyone the benefit of the doubt, and get it IN WRITING that you will not pay for work or materials that you did not approve of first IN WRITING. That will cut most of those shady kinds of potential contractors out.
The ones I have worked with really want to get in and get out as quickly as possible because they are booked up for the foreseeable future. They do not have time to make things up. They are probably just as inconvenienced at finding a new issue as you are. Especially if this now means that they have to call you in and get a piece of paper signed to do this new piece of the job.
Remember, you always have the option to say no. Good contractors will be able to give you their input on how or why to do or not do something. Then it is up to you to make the final determination.
Contractors are people too. They are capable of good and bad just like the rest of us. Don't assume that they are trying to pull one over on you. I wouldn't say to hand them a blank check either, but if you treat them as if they are going to do wrong, they might not stick around to do right. If you blow up at them when they find something else wrong, they may just overlook it and let the problem get worse. They may also just walk off of the job and leave you owing them for what they have completed, and now you have to find a contractor who is willing to come in and finish what another one started. That is way harder than finding a contractor to do the whole thing, let me assure you!

I Am Paying Them to Work for Me, So I Can Treat Them However I Want!
Myth. You are paying a contractor to do a job that you either do not want to do, or are incapable of doing. They are sort of doing you a favor and you are returning the favor with money. They did not sign up to be your employee when they agreed to remodel your bathroom. They should be respectful of you and your home. You should consider that they are working WITH you, not FOR you. They are working with your ideas and budget to do a job that you need/want done.
You have established that for some reason you need a professional to do the job. They typically have a business that they work for and/or own. You are not the owner, and remember to treat them as your coworkers, not employees. Trust me, as an employee I say that employees can be pains in the neck. Don't take one on if you don't have to :). Treat them as your equal. Remember the saying about attracting more bees with honey than salt. Should you have an issue of some kind and have been good to your contractor, they will most likely work with you on it. If you have been rude and ugly, they won't want to help you out. In either case of how you treated them, they are people with families and responsibilities and they are trying to make a living. Be mindful of that.
Let's Be Nice!
Just remember to treat everyone the way you want to be treated. That isn't just contractors. Treat everyone with kindness. If you can't be kind, be silent, or stay at home. We all have bad days. Do something you enjoy on those bad days if you can. I wouldn't let someone walk all over me, but I do try the kind route first. I only pull out the bulldog if the situation calls for it. Oh, and it has recently… But that's another blog!
Hermann says please like and share!