Hip, hip hooray! The Cameron office move happened! There were two very tired Hermit Haus folks at the end of the day, but Mandi and Lee persevered and got all the stuff done. I don't think they want to move offices again any time soon. The plan is most assuredly NOT to move again. So, for your Christmas cards and such, make a note of our new address:
411 Main Street, Cameron, Texas 76520
Visitors: the office door is in the BACK of the building. We will soon have an obnoxiously loud doorbell system.
Just from the reports I received from the team (I was conveniently in Austin, hosting a party of coworkers, its own form of stress), I foresee one of Mandi's posts with tales of terror and hilarity will be coming soon. The main issue was that, somehow, the movers had been told they were moving two rooms, not the whole first floor. I guess Mandi got it all straightened out, because soon she was sending photos of the desks and such in the Hermit Haus building. Whew.
There was a report of one of our fancy desks getting dropped, but though it scared Mandi a lot, things seem okay.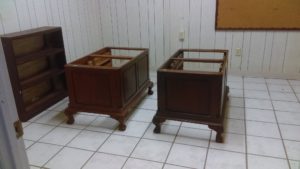 Once the stuff was in the building, Lee got the fun of putting things back together, because the desks and credenzas were all in the wrong rooms.
Of course many little things had to get taken care of, such as buying a lot of extension cords for the offices. Why? There is exactly one outlet in each room, that's why. We look forward to the upgraded electricity in the renovation, for sure!
I'm very happy that Mandi's priorities were good, and she made sure to put a wreath on the side door and a fake tree with lights on the porch. We are trying to make it welcoming. That reminds me that we need to take down the welcome sign over the door at the old office. It will be much more visible at the Hermit Haus.
From the sound of it, I will have plenty to do this weekend to continue getting things in shape. I'll have a hammer, nails, and maybe even a couple of rugs, if I can fit them in my car.
PS: the old office wasn't empty long! Martha and Mike are moving in on schedule! They get to take their time, though, since they have nice landlords at their previous house (us).
Hermann says please like and share!