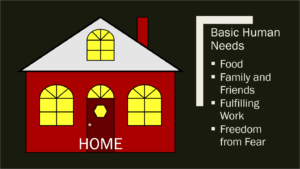 Today must be "deep thoughts" day. For some reason, meeting people's basic needs has been on my mind lately. I've been reading The Poisonwood Bible, where at first it seems like the Congolese people in the book have nothing, then it dawns on you that they have all they actually need.
As an exercise I'd worked very hard in my mind to distill basic needs to five or fewer things. I came up with some that worked for me:
Food
Family and friends
Fulfilling work
Freedom from Fear
Then I had to laugh to myself; I'd forgotten the basic need that our company tries to help with. I guess that was because, no matter how hard I tried, I couldn't get it to start with the letter "f" (darn it):
Home
Oh yeah, people need that. I chose "home" rather than housing or shelter, because I believe people need a place that feels like home, which means that they will also have the other four needs, which I chose with these details in mind:
Proximity to a place with affordable and healthy food to keep their bodies in good shape
A commuity of supportive other people to support them in times of need and celebrate good times
Something to fill their days that contributes to the greater good and their self esteem, which allows them to keep the home going
And safety – you don't really have a home if you don't feel safe from war, crime, abuse, etc.
Just pondering why I chose the things I did made me realize that just buying and selling property, or just renovating a house to make a profit does not contribute to the basic needs of our fellow humans. And that's not what we want to do in our rehabilitatio work. We want to provide homes that help create a better life for everybody. That means they allow people to have all five components of my basic needs list.
Are there other basic needs I've missed that you'd add to the list? Sanitation? Health care? Education? Tell me!
Hermann says please like and share!