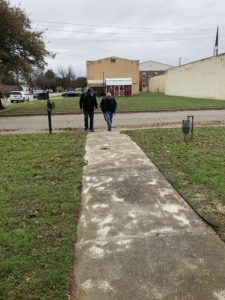 We're getting ready to get going with more of the renovations we need to have done. Most exciting, at least to the general public, will be the Pope Residence. 2020 will be the year it comes back to life!
Now that the electricity is on, we were able to bring our contractor, Cody, in to look the place over. Lee explained what rooms would be in phase 1 and what parts of the house will be in phase 2 of the project.
We looked at the sadly sagging floors in the room Lee wants for his office, and Cody said he thought that maybe it just needs a joist repaired rather than a big leveling job. That was some good news, and we have our fingers crossed that it's true.
Much of the rest of the proposed changes look like they won't be too bad, though it will be interesting to remove the staircase and put the ceiling/floor on the upper level back in. We are interested in finding out if we can resurrect some beadboard from another area in the house to re-create the proper ceiling. I think there are some ceilings in a bathroom and a closet that we can get them from.
We found out that Ms. Erma, who lived there before, still wants a couple of things out of the house, so we are really glad we didn't already clean the place out. We sure didn't want to get rid of things she wanted.
Cody will bring in an electrician next week to look at both the Pope Residence and the Hermit Haus next week. Both will have some challenges, we predict, but nothing we can't handle.
So, all is well, and we'll have a bid by the new year. We'll also have a bid for rewiring and enlarging the offices in The Hermit Haus. Luckily, we probably won't start that until the series of classes that are going to be held there are over.
I love progress!
Hermann says please like and share!