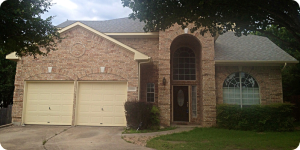 Omro Cove is one of Lee's favorite projects to date. It is a four bedroom, two story brick home that he bought without ever being able to go inside. Imagine buying a house when you can only look at pictures on a friend's phone. Outside, it needed an above-ground pool removed and very little else. Inside, it was a different story. Cats had run amok inside for more than a decade.
We were able to put the house under contract to the new buyer before we were half-way through the redevelopment phase. This happy event gave the new buyer some leeway in updating their new house within budget guidelines.
| Before | After |
| --- | --- |
| The original kitchen was well-worn. All of the appliances were builder-grade, and the counter tops were white laminate. | We replaced the appliances with modern black at the buyer's request. We freshened the existing cabinets with white paint and added granite countertops. In the background, you can where we added built-ins into dead space on either side of the fireplace, which we dressed out with a new mantle and tile. |
| We removed the "headache rack" from above the island and installed modern kitchen lighting. | We replaced the sheet flooring in the kitchen and utility room with a high-quality ceramic tile that gave the look of Travertine without the maintenance issues for the new buyer. |
| Carpet ran throughout the living areas of the first floor. The window treatments had been mostly destroyed by the cats over time. | We extended the tile from the kitchen to the front door and installed a quality wood flooring product in the dining and living areas downstairs. We installed new wood blinds throughout. |
Upstairs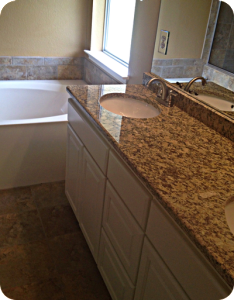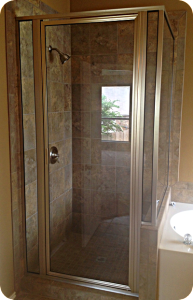 We repainted and recarpeted the entire second floor, installing new light fixtures in the stairs, hallways, and master bedroom. Finally, we gutted and redeveloped both full baths upstairs, including a custom shower in the master bath. The granite and tile theme carried through to the master bath with a custom white cabinet.
Hermann says please like and share!