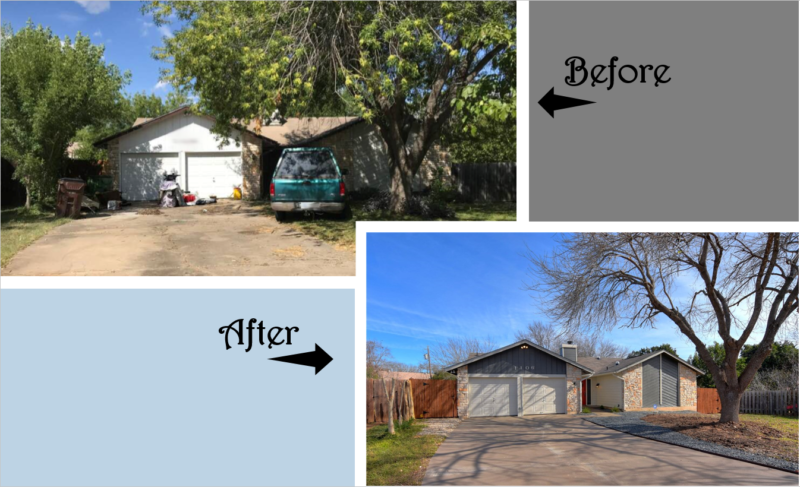 Updates:
We closed on the sale of this property on May 15, 2019. We hope the new owners enjoy it very much.
This project is completed, and it's an amazing transformation. There was a GREAT house and yard under all that stuff. Please visit the MLS page to view the listing and lots of beautiful photos.
Story
Originally, this house was one we lost out on to another bidder, but its ours now. Here's a bit of the original story, by Carol:
The home is a 1-story, and its lot is the largest in the cu-de-sac. I was excited at the prospect of finding my next rehab. I've been investing in real estate for about 15-years now, and my favorites are homes which have double side gates and room for a great workshop out back, or the addition of an additional dwelling unit in the backyard. This home fit the bill.
The man I met was son-in-law to the owner and he was horrified to find the home in the state that it was. Apparently, it had been a long time since they'd come to visit, and the issues his relative was dealing with hadn't been apparent. I left without making him an offer. My head was spinning from the stench and overwhelming number of updates required. He obviously had no idea what to price it at. And I did. It is a good shell and a good location, but that's all. Most everything else needs replacing. What we'll find behind the walls were a whole other thing. The possibility of bed bugs, or other pests were almost guaranteed. And most people today are overwhelmed to deal with only one of those alone.
After walking away, I wound up coming up with an offer. Too late. It had already been snatched up by another investor. Seasoned or not, we all make mistakes.
However…
A week or so later, Carol got a call from the fellow investor who had been selling the house. The original purchaser had backed out of the deal, so we got offered the first chance at it. Carol was pretty thrilled to say, sure! We won't make millions on this property, but with patience, can make a good profit. Note that lots of these items have been removed by the family of the original owner. It just overwhelmed them.
What Happened?
Well, it wasn't great news, so send good thoughts to the family of the man who'd lived there previously. All of his health issues got the best of him, and he passed away. Now, that suddenly means that the new purchase of the house can't close until after probate and other legal issues have been resolved. The investor who had signed the contract before us could not wait for that. They had wanted to close quickly, so that's why they backed out. Since  we had gone from one project in progress to two or three at the time, we were not put off one bit by the delayed closing. That gave us time to work on some other projects, and a lot of time to line up the financing. The circumstances make us sad, but we are glad to be able to restore this house to a good condition for a new family. Estate properties are one of the kinds of deals we specialize in, so we are confident the Parkwood property, will have a happy outcome.
Before Photos
Hermann says please like and share!