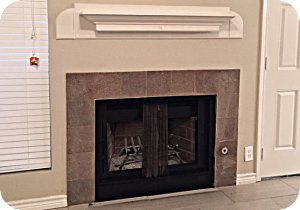 The Peachtree Valley house had been a rental in a working class neighborhood in Round Rock. It was suffering from more than a decade of deferred maintenance.
In addition to the specifics shown below, we replaced the flooring throughout the house. The traffic areas got a nice gray ceramic tile that the new owners will be able to enjoy for a long, long time. The bedrooms got fresh neutral carpet.
We had some tile left over from another project that went around the firebox of fireplace. That and the updated mantle give a clean, modern appearance.
The color pallet we chose was bold, but it fit well with the neighborhood. The bright red trim really pops against the more neutral gray we chose for the body of the house, but there were several other red-trimmed houses on the street. Just maybe not as bright a red.
| Before | After |
| --- | --- |
| There wasn't a working light on the front of the house, and all of the flowerbeds smelled of cat urine. | We painted the exterior, replacing some minor wood rot, and installed new lights. We cleaned up the flower beds and installed new drought-tolerant plants. We also replaced the privacy fence around the back yard. |
| The kitchen was typical of the rest of the house. Some surfaces were clean while others had been allowed to collect grime. Every cabinet in the house was damaged in some way. | New cabinets with granite countertops, fresh paint, and updated appliances made the kitchen feel clean and homey again. |
| Both bathrooms suffered from decades of wear on low end, builder grade tubs with plastic surrounds. The cabinets were in even worse shape than those in the kitchen. | While we replaced the tubs, toilets, sinks, and surrounds in both bathrooms, the master got this special luxury treatment. Even in a low-priced (mid 100's) neighborhood, we believe buyers deserve to pamper themselves a little. |