We are happy to announce that our Lakeland project is on the market now! It's listed at $399K. It has 4 bedrooms, and 3 bathrooms, with 3298 square feet of living. There is a HUGE media room on the second floor with doors that lead to the second-floor deck. If you know Austin housing prices, you know this is a great deal.
Our team thinks it has turned out extremely well. The new carpet and finishing touches to the deck are in, and with just a bit of sod in the back yard, it will be a paradise, whether as a full-time residence or an amazing vacation/weekend home for you and your extended family. Enjoy lake access, deer, really nice neighbors, and best of all, peace and quiet within easy reach of Austin, Cedar Park, and scenic drives. Have we mentioned that the house is on TWO lots? Yep. No one will build on top of you. Got a boat? You'll be really close to a marina!
Please visit our beautiful showcase page, which has much, much more information on the renovation, as well as information on upcoming open houses. (Warning, it plays music, so mute your computer if you're at work.) Much credit goes to Carol, who has supervised the renovation, staged it, and is marketed it. And Russell has done a lot of the physical labor involved, himself. They have always been hands-on renovators, and it's hard to break those habits!
This post contains just a couple of the photos from the slideshow. You just have to see the rest–the bedrooms, the kitchen, and the front, with a new fountain!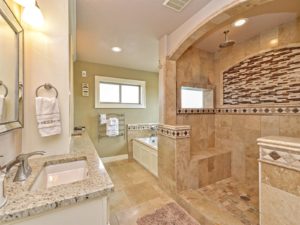 Open House!
The open house is Saturday, September 3, from 11-2. 18413 Lakeland Drive, Point Venture, Texas 78645. That's the Lago Vista area, way at the end near the golf course, restaurants, and a beautiful park.
Who needs to go to a park when  you are already in a park-like setting, though! Check out the tour, and feel free to drop by either open house. One will be hosted by our team, and another by a local agent who fell in love with the house. Maybe there will be cookies in the amazing kitchen with the new window.
Hermann says please like and share!