Been wondering what's going on with the Parkwood project in Round Rock? Well, it's moving right along at a really brisk pace.
The most exciting thing, to me, is that the cabinets have been repainted. They look brand new and so modern with white uppers and gray lower cabinets. Carol says that granite is a mix of gray and white, and that it will be in soon. Once they are all positioned, kitchen flooring can go in, too.
Meanwhile, we're happy to see that the new windows are here. They will get installed as soon as today's big rain event is over. Also the skylights can be put in, which will lead to much brightness and happiness in a formerly very sad space.
And hey, did you notice the garage looks particularly good? Ray's team got rid of the popcorn ceiling in there and made it nice and textured. Yes!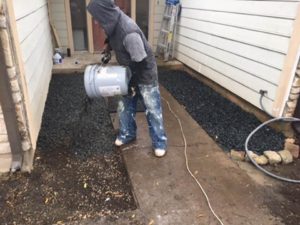 The outside continues to blossom as well. All the sad plants by the entryway are gone, and they've been replaced by beautiful landscape rocks, which will be so much more welcoming. And a lot of work was done to the siding this week. It wasn't exactly put on straight, even though it's really good siding. New trim is up as well. This house will look so good once painted!
We're very proud of how well this project is coming along, even with its ups and downs. Don't all projects have ups and downs?